At the moment there is no standard definition for adventure racing. Each race is created and defined by its organizer. An adventure race usually include, but is not limited to the core disciplines of mountain biking, trekking, orienteering and paddling (canoeing/kayaking). Typically an adventure race is a non-motorized, multi-discipline, endurance race.

Race the Rockies hosts an adventure race that is an 18 hour continuous race, and participants can enter the event in either SOLO or 3 person mixed gender TEAM categories. While solo athletes travel at their own pace, teams must travel together at all times, the distance separating the first and last member should never exceed one hundred meters.

The entire race is self navigated, and athletes are required to locate the precise locations in the terrain that are indicated on their maps. These are commonly referred to as Check Points (CP's). The athletes use the provided UTM grid coordinates and topographical maps to navigate through CP's from start to finish in sequence. Race officials record each athlete's elapsed times as they pass through the CP's, which has two purposes – it allows teams to determine progress during the race, and also allows race organizers to track racers as they move along the course.

TA's (transition areas) are somewhat different than CP's as they usually mark a change from one discipline to another (example – mountain biking to paddling). An assistance crew can assist athletes in these areas and also provide a source of support for teams as they move along the course, much of which is isolated from large population centers.

Adventure racing is truly unique and requires participants to test skill levels as well as physical limitations. We believe in providing the highest standard of safety and ensure that all athletes carry with them mandatory gear for each section of the race. This sport is becoming very popular and we believe in setting a high standard of course design, organization and safety for other races to aspire to.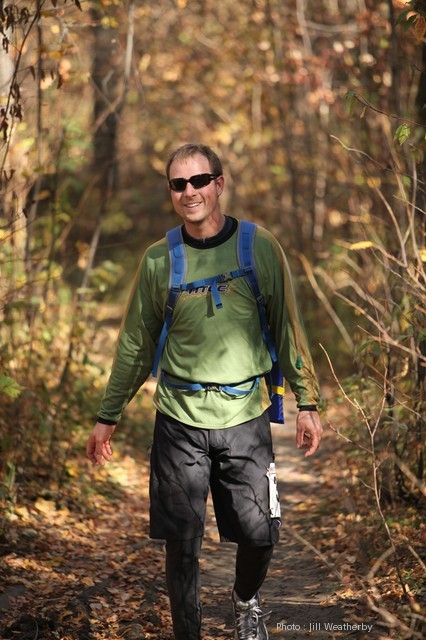 CP19 wasn't right on the water. Teams had to inflate their raft and then descend the slope with their gear